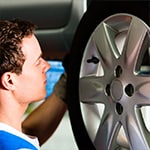 Of all the things that can go wrong while you are driving in Albuquerque, a tire blowout is one of the scariest. It can happen all of a sudden and make you lose control of your vehicle, which can lead to an accident. The good news is, there are some things you can do to help avoid a tire blowout.
One of the most effective ways to avoid a blowout is to make sure your tires are inflated properly. Tires that have too little or too much air are more likely to have a blowout. Another way to prevent blowouts is to properly maintain your tires. Tires that are too worn or that have damage to them put you at risk of experiencing a blowout.
If it's time for maintenance for your tires or to have them replaced, bring your vehicle in and let the professionals at Pitre Kia help you.